Greek Banks Must Raise 14.4 Billion Euros After ECB Test
Greece's four main banks must raise 14.4 billion euros ($15.9 billion) in fresh capital, the European Central Bank said after conducting a balance-sheet assessment and stress tests.
An asset-quality review resulted in valuation adjustments of 9.2 billion euros at National Bank of Greece SA, Piraeus Bank SA, Eurobank Ergasias SA and Alpha Bank AE, the Frankfurt-based central bank said in a statement Saturday. In the stress tests, the banks' capital gap amounted to 14.4 billion euros under a simulated crisis, and 4.4 billion euros under the baseline scenario. The four banks will have to submit recapitalization plans to the ECB's supervisory arm by Nov. 6.
"Covering the shortfalls by raising capital would then result in the creation of prudential buffers in the four Greek banks, which will facilitate their capacity to address potential adverse macroeconomic shocks," the ECB said in the statement, adding that a minimum of 4.4 billion euros, corresponding to the AQR and baseline shortfall, is expected to be covered by private means.
National Bank of Greece, the country's biggest bank by assets, has a total capital shortfall of 4.6 billion, of which 1.6 billion arises from the baseline scenario. Piraeus has the biggest shortfall of all the lenders, having to raise 2.2 billion under the baseline scenario, and 4.9 billion in total. Alpha Bank only needs to raise 263 million under the baseline scenario, of a total shortfall of 2.7 billion. Eurobank has the lowest aggregate shortfall, totaling 2.2 billion, of which 339 million corresponds to the baseline scenario.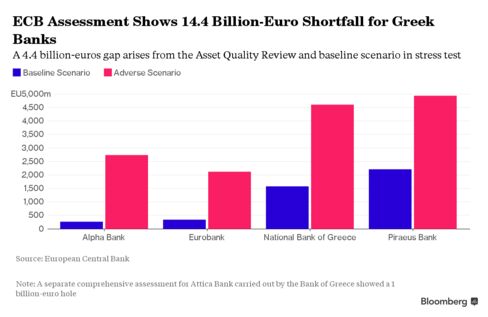 "Overall, Alpha expectedly fared best and Piraeus expectedly fared worst," Paris Mantzavras, analyst at Athens-based Pantelakis Securities wrote in a note to clients after the publication of the results. "Compared to our market estimates for the total capital bill, Eurobank is a positive surprise and National Bank a negative one."
The government of Prime Minister Alexis Tsipras and Greece's European creditors reached a bail-out agreement this summer after months of wrangling that brought the country to the brink of leaving the currency union and resulted in the imposition of capital controls. Recapitalizing the country's lenders, after a month-long forced shutdown in July, is the first step to restart the country's economy, which is still crippled by recession and restrictions on transfers of capital and ATM withdrawals.
Lenders will ask their shareholders and bondholders to voluntarily offer to plug any holes identified, before resorting to a 25 billion-euro state backstop, according to a bank recapitalization bill on which the Greek Parliament is scheduled to vote on Saturday. Taxpayers' funds will come from euro-area emergency loans under Greece's latest bailout agreement.
Common and preferred stock as well as other financing instruments, including unsecured senior liabilities, can be bailed in before a financial institution is eligible to use the public backstop of the state-owned recapitalization fund to cover its shortfall, according to the draft bill posted on the Greek parliament's website.
With assets totaling 296 billion euros at the end of June, the four banks tested by the ECB account for approximately 90% of the assets of credit institutions in Greece, the ECB said. Attica Bank, which is not considered a systemically significant lender, was assessed by the Bank of Greece, which identified a 1 billion-euro shortfall, according to a statement on Saturday.
"The shortfall number was in line with our expectation," Jonas Floriani, a London-based analyst with Keefe, Bruyette & Woods, said in an e-mail. "The key now will be the capital plans and the recap framework."
Bloomberg
You may be interested